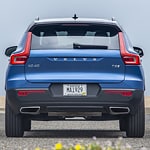 The Volvo XC40 is a luxury subcompact SUV made for people looking to get a little more out of their vehicles. It has impressive drivability, is easy to figure out, and also includes a number of features that we think should be discussed at length. Its exterior features are especially impressive, as they add both character and efficiency to the XC40.
One exterior feature that we love here at Volvo Cars Tucson is the XC40's integrated aluminum roof rails. Not only do these rails make loading cargo easy, they also look darn good, and are aerodynamically designed to reduce fuel costs. Another feature worth mentioning would be the XC40's dual integrated tailpipes. While they don't really have any practical function, we think they look great and add a touch of futurism to the overall vehicle.
To discover more exterior features of the XC40, come by Volvo Cars Tucson to test drive this luxury subcompact SUV for yourself.