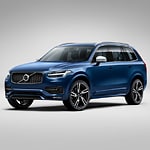 The Volvo XC90 Momentum Trim is a luxury SUV that exudes an air of sophistication and class. This trim level comes with features like the Pilot Assist driving assistance system, which can be activated to help you maintain speed or distance from other vehicles on the road. The Momentum Trim also comes equipped with Dynamic Steering for accurate handling at any speed, as well as Active Bending Lights for better visibility in low-light conditions. With these features and more, this vehicle provides an unparalleled experience behind the wheel!
The Volvo XC90 Momentum Trim has a sleek and sporty design. Its silver finish and rims provide an eye-catching look to the vehicle, which also consists of alloy wheels and an adjustable steering wheel for added comfort. The layers of leather that cover the seats as well as the minimalistic designs on the face of the dashboard give off a feeling of comfort and sophistication the second you step into this vehicle.
The Volvo XC90 Momentum Trim is available for purchase at all dealerships across North America! If you're looking to experience true luxury behind the wheel, look no further than the Volvo XC90 Momentum Trim.