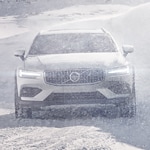 If you are interested in a Volvo because you want a reliable vehicle with plenty of cargo space, consider the Volvo V60 Cross Country. This Volvo is great because it has luxury amenities and plenty of space.
Some of the top features of the Volvo V60 Cross Country are the wireless device charging. The Volvo V60 cross-country will definitely help you out if you need to charge your smartphone quickly. Also, it is easy to control the handling of this vehicle because of the drive modes and all-wheel drive.
There are also premium comfort features for this Volvo vehicle. Some of these features include a panoramic roof and a serious system with Bowers & Wilkins speakers. Also, you can enjoy a hands-free tailgate with the Volvo V60 Cross Country. There are also impressive safety features, such as the 360-degree camera that helps you when you need to park.