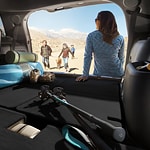 The roads of Tucson, AZ can be a dangerous place. It's easy to forget that when you're in your car, and you're not paying attention. You can as well pay attention and still end up in an accident. But as a driver, you have a responsibility to yourself and your passengers to keep safety at the forefront of your mind.
Here is a list of road trip safety tips to help keep everyone safe on their next road trip:
Make sure your tires are properly inflated and aligned. Drivers will always forget to check their tires, instead, they will be concerned about the gas level.
Keep an eye on the weather so that you know what conditions to expect on the road ahead. Always make sure you have enough water and snacks in the car.
Always wear your seatbelt. You never know when there might be an accident or other unexpected event where you'll need it most.